Writing as Dakota Banks

Paranormal thriller/urban fantasy fans!
I write the Mortal Path series, beginning with Dark Time.

Mortal Path Series in Order:
Dark Time
Sacrifice
Deliverance (March 2012)

Hover cursor inside box to pause scrolling.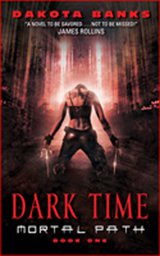 Dark Time: Mortal Path Book 1
Harper Voyager
Paperback, $7.99, ISBN-13: 978-0061687303
eBook, $7.99, ISBN-13: 978-0061892691

Susannah Layhem, a healer unjustly accused of witchcraft in the 17th century, is ripped from her husband's arms and thrown in jail. Abandoned by her husband and friends, she's tied to a stake and set afire. Her raging bitterness draws one of seven ancient Sumerian demons. The demon Rabishu pulls her from the flames, and she signs a contract to live forever—if she does his evil work. Susannah becomes the Black Ghost, an Ageless assassin gifted with otherworldly skills and superbly trained in martial arts.

She obeys Rabishu's orders and remains a beautiful young woman. Then she's given an assignment she can't bear to carry out. She chooses the mortal path instead, and emerges from three centuries of reluctant service as the demon's slave. Now Maliha Crayne, she discovers the fine print of her contract. If she balances lives taken with lives saved, she'll ascend to a paradise straight out of Sumerian legend. If she fails, she faces eternal torment at Rabishu's hands. The ticking clock? Every time she saves lives, she ages. The deck is stacked against her. She's got her own agenda, though. Payback time—killing Rabishu and his kin before he gets his punishing claws on her.

Intimately tangled with Maliha's yearning for personal redemption is her thrilling quest to stop a villain from selling America's security to the highest bidder. For both goals, she will need to relearn what it means to be mortal, to reach out in friendship, and to dare to believe she can love again.

Dark Time is laced with ancient legends, a heady dash of the supernatural, and the warmth of awakening relationships.



Read an excerpt of Dark Time now!
Click on the arrow, then click on "Read a Sample" below the book cover.

---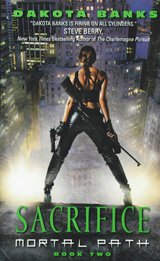 Sacrifice: Mortal Path Book 2
Harper Voyager
Paperback, $7.99, ISBN-13: 978-0061687327
eBook, $7.99, ISBN-13: 978-0062008855

A demon's enslaved executioner--a ravager of lives and souls--Maliha Crayne has been reborn, willing to sacrifice her immortality for a chance at freedom ... and salvation. Now she has an opportunity to prevent the death of thousands to help balance the countless lives she has obliterated over the centuries. To do so, she must locate and destroy an evil cabal of madmen in possession of a weapon of unspeakable power--and survive the immortal assassins who are now after her blood. But it means reverting to the old ways and surrendering once more to the darkness.




Read an excerpt of Sacrifice now!
Click on the arrow, then click on "Read a Sample" below the book cover.

---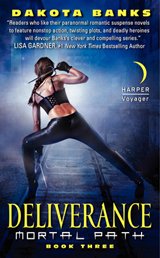 Deliverance: Mortal Path Book 3
Harper Voyager
Paperback, $7.99, ISBN-13: 978-0062049988
eBook, ISBN-13: 978-0062049995 TBA

A demon's assassin for centuries, Maliha Crayne has gone rogue, determined to save a life for every one she's destroyed in order to free herself from an eternity of enslavement, damnation, and excruciating torment. But as the powers that sustained her in the past fade, she is wary of trusting those closest to her-especially her lover, Jake. Should Maliha listen to her heart or the alarms going off in her head? Then her closest friends begin to disappear, one by one. Amid her anger, suspicion, and sorrow, she feels her life spiraling out of control.

Worse still, a beautiful, Renaissance murderess is recruiting Maliha as her new assassin. Maliha is turning into a lethal puppet with an evil Immortal pulling the strings, forced to kill innocents or see her missing friends die horribly. Suddenly trapped in a moral no-man's land, Maliha is damned if she does and damned if she doesn't…and time is rapidly running out.



Read an excerpt of Deliverance now!
Click on the arrow, then click on "Read a Sample" below the book cover.


---
Writing as Shirley Kennett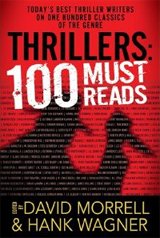 Thrillers: 100 Must Reads
Oceanview Publishing
Hardback, 408 pages, $27.95, ISBN-13: 978-1-933515-56-4
eBook, $14.95

The most riveting reads in history meet today's biggest thriller writers in Thrillers: 100 Must Reads. Edited by David Morrell and Hank Wagner, Thrillers: 100 Must Reads examines 100 seminal works of suspense through essays contributed by modern thriller writers.

Thrillers: 100 Must Reads features 100 works-from Beowulf to The Bourne Identity, Dracula to Deliverance, Heart of Darkness to The Hunt for Red October deemed must-reads by the International Thriller Writers organization. Much more than an anthology, this book goes deep inside the most notable thrillers published over the centuries. Through lively, spirited, and thoughtful essays that examine each work's significance, impact, and influence, Thrillers: 100 Must Reads provides both historical and personal perspective on those spellbinding works that have kept readers on the edge of their seats for decades.

Shirley Kennett's essay in the book is about The Eight by Katherine Neville.

"A great sourcebook not only for thriller fans, but also for anyone interested in the workings of the human mind, including psychologists, sociologists and even philosophers." - Associated Press, Reviewed by Waka Tsunoda

---